Like every other blogger, I obsessively check my stats and see what keyword searches are leading people to my blog. I find raw data of this nature to be immensely fascinating; it's like a powerful X-ray machine reading the innermost thoughts and desires of a random cross-section of humanity. What can we learn from these keyword searches? How can the bored, slightly distracted musings of an anonymous horde teach us new things? Let's find out.
Following is a list of keyword searches that have led people to Let's Anime, with my commentary.
how long has japanese anime been around
Since 1963, when Tetsuwan Atomu / Astro Boy first premiered on Japanese television- it was the first animated series made for Japanese TV. Only before that, films like
ALAKAZAM THE GREAT
(1960) had featured colorful, big-eye Tezuka design work, so I guess you could call that the genesis of the anime style.
What we regard as the "anime style" was started by Tezuka in his popular postwar manga, a cinematic, cartoony style developed from his love of Disney films. Animated films in Japan have been around for about a hundred years, so you can keep dating back as far as you like, even though a lot of those films don't resemble "anime" in the least. On the other hand, plenty of Japanese animation from the post Astro Boy period doesn't resemble the big-eye stereotype of "anime" either, so use casual buzzwords with caution.
fantastic adventures of unico dvds
unico island of magic torrent
unico in the island of magic torrent
unico the last unicorn torrent
unico unicorn japanese cartoon
unico and the fantastic island
unico the unicorn cel
new galaxy anime unico dvd
unico island magic torrent
unico the island of magic
unico, anime
Attention
New Galaxy Anime.
PEOPLE WANT UNICO! This early 80s Sanrio film and its sequel,
Unico In The Island Of Magic
, were popular staples of America's home video market in the mid to late Reagan years, and warped the minds of many a child who would grow up with misunderstood and deeply confusing desires to turn into a giant unicorn and impale monsters in a frightening thematic change that darkened the entire tone of the video. But that's Sanrio, there's a dark side to that cute face.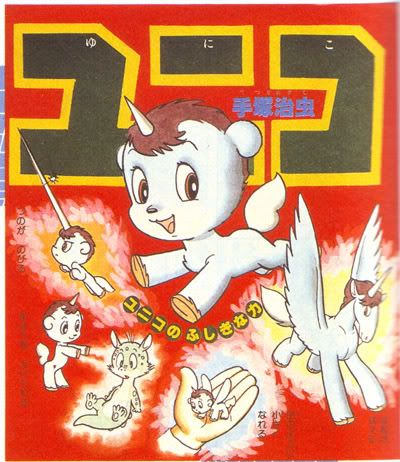 I don't know when Unico will be released, I don't know what their schedule is like, I don't know anything except that there is a fierce desire for DVDs of Unico among the anime-blog-reading public. So let's get it together here, guys.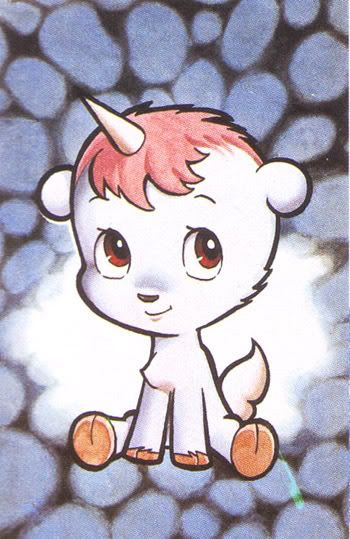 unicorn final countdown song
Okay, that one I can't help you with.
prince planet tv show
prince planet merchandise
prince planet earth rubbish
tv animation series prince planet
where to buy prince planet children's cartoon
television show prince planet
prince planet pictures
Prince Planet continues to generate a lot of traffic. There's a lot of nostalgia out there for this clunky, weirdly dubbed 60s show. Somebody in the entertainment industry should make things happen, there's money to be made here.
No, I do not know where you can purchase Prince Planet, other than
Something Weird's Starman DVDs
, which you should all buy. Seriously, I don't know where to buy any Prince Planet stuff, not here or in Japan or on DVD or VHS or any other format. I wish I did. If I ever do find someplace selling legit DVDs I will immediately mention it here. I swear.
cardboard squares to make adventure toys
Can't help you with this one.
anime foot shots
Uh, good luck with that. And no, I don't want to know what you want them for.
what was the hair style of the late 70's - 80's that was said to be business in the front and party in the back
?
That would be
THE MULLET!
The powerful "hockey hair" fashion statement still popular in the blue-collar hinterlands of North America, often seen rocking to Dokken or rollin' with the Doobie Brothers. The Mullet continues to be a great way to tell the world you simply don't care what they think, and you might just kick their ass. Seen sported by anime heroes in series as disparate as
DAIKENGO
and
TEKKAMAN BLADE.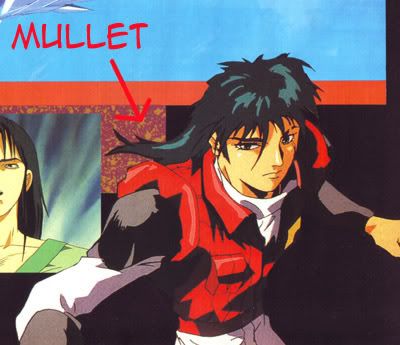 koji can swim in the sky
koji can swim in the sky in his robot man mazinger z
These would be the lyrics to the theme song of the
English dub of Mazinger Z,
heard as part of Mazinger Z's run on the Japanese current affairs program "Beyond The Horizon". Sung phoenetically by Isao Sasaki, this amusing rendition is a delight to the ears. It includes the lyrics "Koji can / shatter the ground / he can make all evil flee / in his robot man / Mazinger Z."
We always heard that third line as "he can make a little tree."
anime three travellers in space toei animation
That obviously is a reference to Spaceketeers, known in Japan as "SF Journey To The West Starzinger" , which is about a princess and her three protectors who journey to the center of the galaxy to stop the source a mysterious radiation that is turning all the cute animals of the galaxy into evil mutants. It was dubbed into English by Jim Terry and shown on American TV as part of the "Force Five" package, and later partially released onto home video by Family Home Entertainment.
who is the cartoon nadia
You mean the star of SECRET OF BLUE WATER? That's the cartoon Nadia. By the way, "Nadia's Song" was not written about the cartoon Nadia.

watch mazinger online for free
mazinger free on line cartoon
"Koji can / download the bittorrents / he can watch anime for free / in his robot man / Mazinger Z"
jack and the beanstalk/giant side of the story
After I wrote the column about the anime Jack & The Beanstalk, I got a lot of keyword searches for some kind of
total adult X-rated animated fairy tale movie
, an American thing by American animators, that featured a Jack & The Beanstalk segment. Well, this ain't it.
hot anime female blueprints
In this issue of POPULAR MECHANICS - How To Build Your Own Hot Anime Female!!?
shogun warriors anime
giant shogun warriors
shogun warriors cartoon series
shogun warriors
shogun warrior toys
shogun warriors cartoons
shogun warriors color book
Judging from my keywords there is still a groundswell of interest in the 70s toy line Shogun Warriors. As well there should be, those were great toys. Does Mattel still own the trademark? Why aren't they doing anything with it?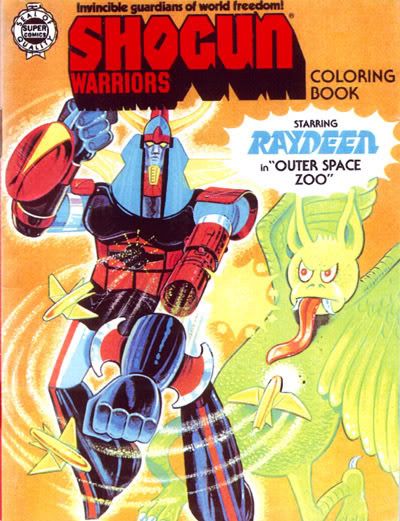 (Shogun Warriors coloring book image courtesy Devlin Thompson)
Look at all the merchandise for stuff like Transformers and GI Joe - think of the cash their older siblings have to throw away reliving their childhood! Get with the program, Mattel! Let's reissue Shogun Warriors, or publish a glossy book of photos of all the toys, or license the name out to DVDs of 70s robot anime, or something!

mazinger z vs. devilman parody sub
devilman vs mazinger z parody
Yeah, I wrote that. I think it's funnier than the Grandizer VS Great Mazinger parody subtitle script, which I also wrote. You can get both of those films for your very own by visiting
Corn Pone Flicks!
By the way, my great big article on the history of the Texas Star Blazers anime club "Earth Defense Command" is now up at
Starblazers.com!
Poke around the site, there's a great article on the history of the English-dub Yamato film as well as tons of other cool Yamato stories & facts.