This year at AWA and at Anime North back in May, I did a panel all about Japanese cartoons based on Western works; two hours of me showing clips and talking about them, only making stuff up occasionally. Seeing as how it's been weeks since I did a column here, I need something I can throw up pretty quickly. So here goes! My panel was by no means a comprehensive or complete overview - just anime I happened to have on hand that was at least vaguely interesting to look at and worth talking about for five or ten minutes. Since I first did this panel in Canada I started off with some Canadian content.
Written by Canadian author Lucy Maud Montgomery in 1908, ANNE OF GREEN GABLES became a worldwide success, especially in Japan. If you are Canadian or watch PBS in the States you're already familiar with the story and/or Megan Follows. If you aren't, it's about a young orphan girl who's adopted by a middle-aged brother and sister on a farm on Prince Edward Island. Expecting a boy, the pair soon overcome their initial reservations and Anne becomes a member of the family.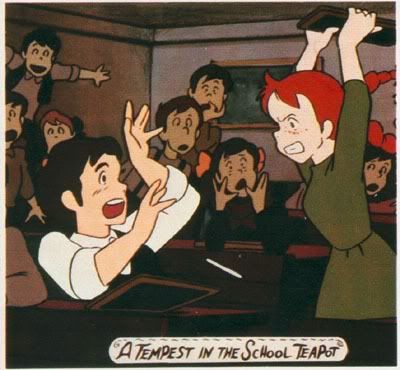 "Akage No Anne" was produced by Nippon Animation Company in 1979 as part of their World Masterpiece Theater series, with animation by Hayao Miyazaki and Isao Takahata. Nippon Animation is airing a Anne prequel - "Hello Anne - Before Green Gables" right now as part of the House Foods World Masterpiece Theater. Currently unavailable in the English speaking world, the failure of the American "anime industry" to rake in cash by releasing this series is proof of massive brain damage on somebody's part.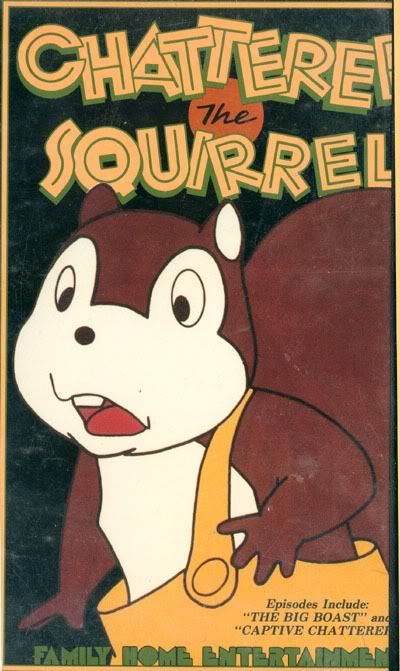 FABLES OF THE GREEN FOREST is another show Canadians are more familiar with than Americans. This anime series, originally titled "Rocky Chuck", was based on books written by Thornton W. Burgess, eminent conservationist from Cape Cod, who over the course of his career wrote more than 170 books and 15,000 newspaper columns. His characters Sammy Bluejay, Johnny Chuck, Polly Chuck, Peter Rabbit, Chatterer Squirrel, Paddy Beaver, Grandpa Frog, Uncle Billy Mouse, and Joe Otter were introduced in his first novel, Old Mother West Wind, published in 1910. The anime series was produced by Zuiyo Eizo (the predecessor to Nippon Animation). America got exposed to the anime incarnations Chatterer The Squirrel and pals through the good offices of ZIV who dubbed this series in a haphazard and whimsical fashion.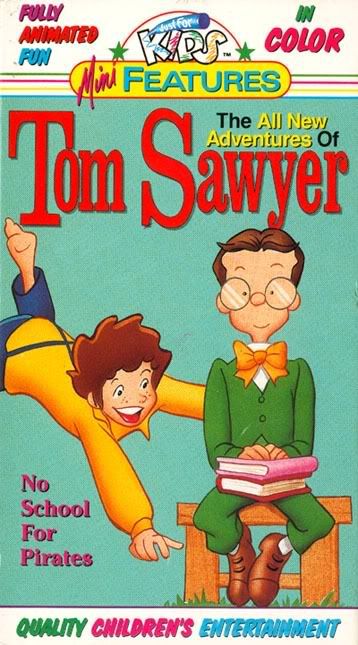 The TOM SAWYER ANIME, based on the Mark Twain book, was a World Masterpiece Theater series produced by Nippon Animation in 1980. Dubbed for American home video, it was released by Just For Kids to an indifferent market. Not nearly as surreal as the Hanna-Barbera Tom Sawyer that featured live-action Tom, Huck, and Becky Thatcher being chased by an animated Injun Joe. Other World Masterpiece Theater series include Swiss Family Robinson, Dog Of Flanders, Remi, Hans Christian Andersen stories, Pollyanna, Peter Pan, Daddy Longlegs, Von Trapp Family Story, and Lassie. No, not Lassie's Rescue Rangers. Just Lassie.
Toei's 1980 TV special LITTLE WOMEN wound up getting dubbed for America by Harmony Gold. Based on the novel by Louisa May Alcott written in 1867, it's the story of four New England sisters Meg, Jo, Beth, and Amy who come of age during the American Civil War. You know how one of the characters in the book dies of tuberculosis? Not in this movie. There was also a Little Women anime TV series called "Four Sisters Of Young Grass(?) in 1981.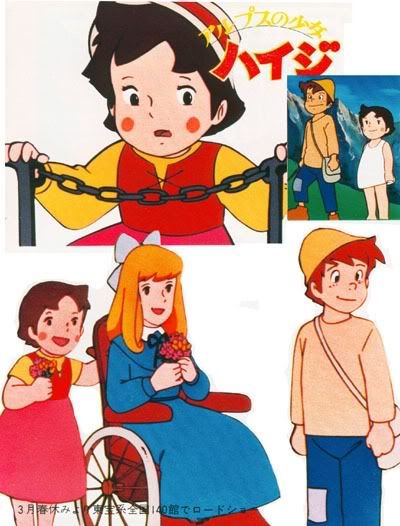 HEIDI is naturally based on the popular children's book by Johanna Spyri about a Swiss orphan who goes to live with her hermit grandfather in the Alps. Animated as part of Nippon Animation Co.'s Worldwide Classics series, with direction by Hayao Miyazaki and Isao Takahata; the pair have a great time animating the endless expanses of Swiss Alps and bright blue skies. There is a Heidiland theme park in Switzerland where yodelling is enforced by law.
SINDBAD, being an adventure character whose appeal has lasted centuries, is a natural to become a Japanese cartoon. The character originates in ancient Middle Eastern tales of an intrepid sailor from Basra. The classic English version is from Richard Burton's 1001 Nights. No, not THAT Richard Burton, the other one. The movie THE ADVENTURES OF SINDBAD is a Toei film released in 1962, dubbed by god knows who, and a staple of public domain home video.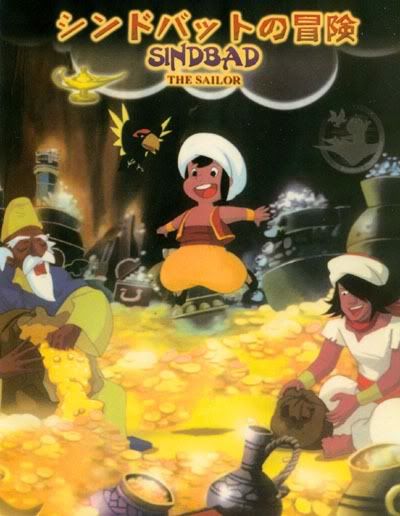 SINDBAD ARABIAN NIGHTS is a Nippon Animation Company series from 1975 and stars Sinbad, Aladdin, and Ali Baba together again for the first time! 1001 NIGHTS - produced by Osamu Tezuka's Mushi Productions- is one of three animated films aimed at an adult market in the late 1960s and early 70s that wound up bankrupting Mushi. I have an English trailer for this film but have never seen a full dubbed version.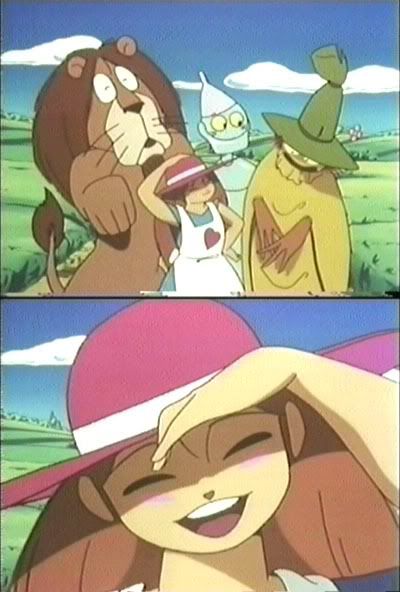 L. Frank Baum's WIZARD OF OZ has been animated by Japanese folks on at least four occasions. One of them is a mere twelve minutes long. The Toho version released in 1982 stars the voices of Lorne Greene and Aileen "Annie" Quinn. I think we wrote about that one already.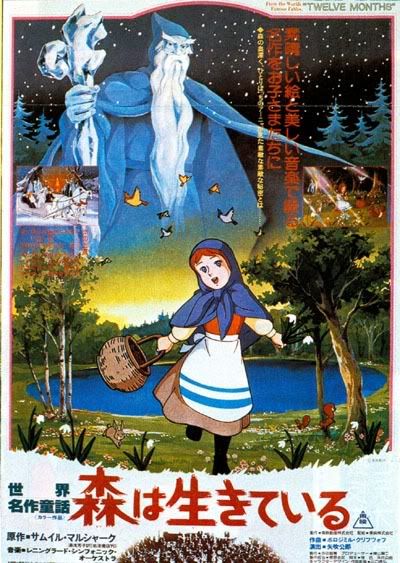 Based on the Russian fairy tale, TWELVE MONTHS is a Toei/Soyuzmultfilm coproduction released in 1980. Anya is sent out into the cold woods to collect flowers in midwinter by the evil queen, but is saved by the twelve spirits of the months of the year. The somber, fantastical characters and cool color scheme are close to Toei's other 1980 film, Towards The Terra.
THE WILD SWANS, a Toei film from 1977, is a complicated Danish fairy tale about a king with 11 sons and 1 daughter. Our clueless widowed king marries an evil stepmother who turns the boys into swans. Daughter Elisa escapes swanification and must complete various impossible tasks and endure hardship to return her brothers to normal. Another swan-themed fairy tale anime, SWAN LAKE is that great ballet and is also a Toei film from 1981 that reportedly was the first co-production between Marvel Comics and Toei. No seriously, it says so right here in the November 1980 issue of Comics Reader. Fred Patten wouldn't lie!
DADDY LONGLEGS is based on the 1912 novel by the American writer Jean Webster, Mark Twain's grand-niece. Originally published in Ladies' Home Journal, this tells the story of an orphan girl whose tuition at a women's college (based on Vassar) is sponsored by an anonymous benefactor. The novel takes the form of letters written by Judy to her mystery man. Will the friendly, handsome uncle of one of her classmates turn out to be Judy's mysterious Daddy Longlegs? Hint: yes.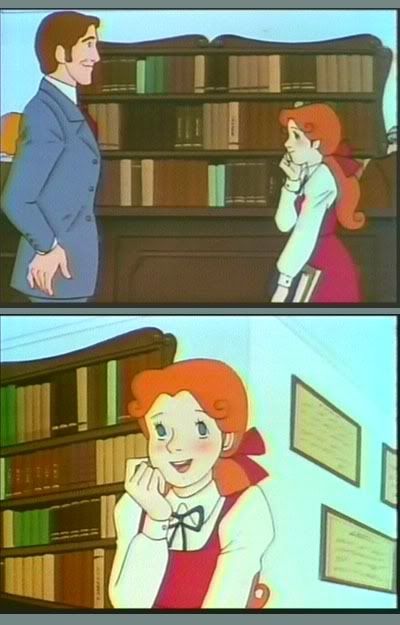 This anime version was produced by Tatsunoko in 1979 and dubbed into English in the 1980s by 3B Productions (Tranzor Z, Starbirds). There is a later TV series by Nippon Animation Company released as part of their "World Masterpiece Theater" series.
CALL OF THE WILD - Obviously from the Jack London novel, this Toei television film is surprisingly brutal in its depiction of the rough life in the North. Also features a ninja dog.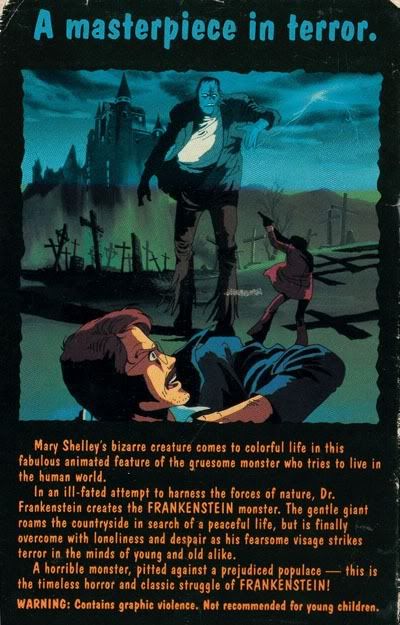 FRANKENSTEIN the anime! Loosely based on the Mary Shelley novel, this plodding, tedious adaptation is enlivened by rare moments of extreme violence. The new ending is not an improvement. Produced by Toei as a TV movie in the late 1970s and dubbed by Harmony Gold.
DRACULA SOVEREIGN OF THE DAMNED - this famous 1980 Toei telefilm is based on the Marvel Comics "Tomb Of Dracula" by Marv Wolfman and Gene Colan. The more fanciful notions of the comic book seem even more fanciful without Gene Colan's masterful artwork, and Dracula cockblocks Satan and eats a hamburger.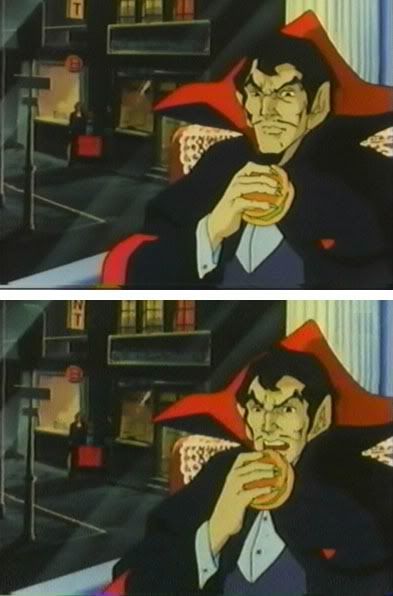 Yup, he's eating a hamburger. Deal with it.
So far the 1970s Marvel/Toei partnership resulted in Dracula at McDonalds, Spiderman with a giant robot, and Go Nagai sketching Luke Skywalker. Oh well, one out of three ain't bad.
THE YEARLING (aka "Fortunate Fawn"): the original Yearling novel was by Marjorie Kinnan Rawlings, was published in 1938, and was the story of Jody, a young boy living in central Florida around the turn of the century. His parents won't let him have a pet, but he adopts a fawn whom he names Flag. I don't know how the anime version ends. This World Masterpiece Theater series recieved a really odd anonymous English dub and was sold in dollar stores as "Fortunate Fawn". Fun fact: when the American film was casting in 1939 my great-uncle tested for the part of Jody. Didn't get it, though.
FUTURE BOY CONAN, part of Nippon Animation's "World Masterpiece" series, this was based on the juvenile dystopian SF novel "The Incredible Tide" by Alexander Key, who also wrote "Escape To Witch Mountain". The original book is, as I recall, deadpan and grim, with Conan and Lana fighting to survive in a much less jolly world than we'd see in the anime series. Directed by Hayao Miyazaki, this is perhaps the finest 26 episodes of any children's science fiction cartoon ever made by anyone ever.
CAPTAIN FUTURE - based on the 1940 pulp series written by Edmond Hamilton. Curtis Newton was raised in a secret moon base by a an artificial man, an intelligent robot, and a brain in a tank. Obviously he became a space-travelling hero battling evil and injustice throughout the solar system. This 1978 Toei TV series was really popular in Europe. Hamilton's "Star Wolf" became a live-action TV series in Japan in the early 1980s.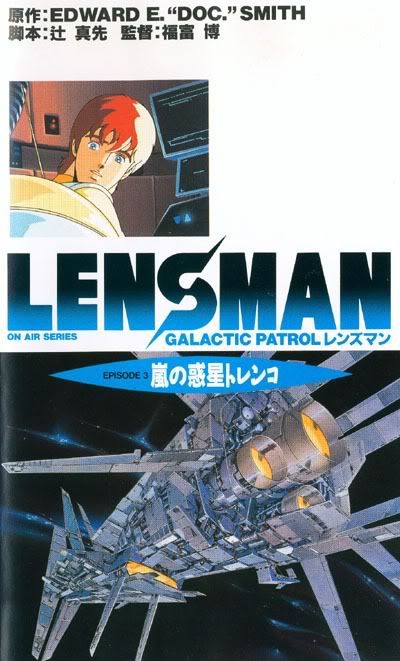 LENSMAN was loosely modelled after the seminal SF pulp series by Edward Elmer "Doc" Smith, PhD (food chemistry). The Lensmen are top agents of the Galactic Patrol, civilization's only defense against the Boskone pirate society. The Lens endows its wearer with telepathy and the ability to control minds of lesser strength. The battle between civilization and Boskone escalates until planets, stars, and black holes are used as weapons. The series began in 1936 and continued through the 1940s, with a final book in the series appearing in 1965.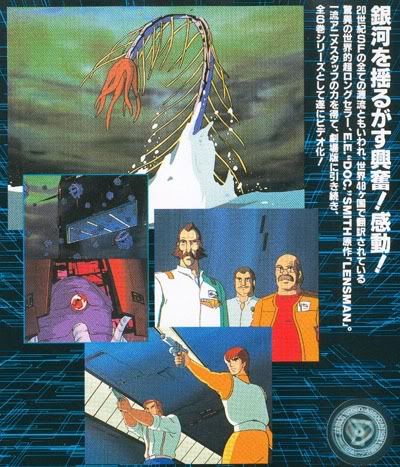 The anime film was one of the first uses of computer animation in a Japanese anime production - not THE first, but close - and was followed by a TV series that hewed slightly closer to the original novels and had a kicky, piano-driven theme song. Other anime adaptions of American SF classics include the Sunrise STARSHIP TROOPERS, an amazingly dull adaptation of a really great book.
The famous Swedish comic strip MOOMIN about the Moomintrolls and their bucolic pastoral existence has been animated on about thirty or forty separate occasions. Mushi Productions, TMS, TV Tokyo, and lots of European studios have all collaborated on different Moomin animated series. There is also a Moomin theme park in Finland, and the shops of three continents are lousy with Moomin toys, dolls, cell phone charms, you name it. The version I have was dubbed into English in Wales.
Other Western-influenced anime titles mentioned were the Toei films Puss In Boots and Animal Treasure Island and Superbook - based on the book WRITTEN BY GOD!!- Tatsunoko's ANIME OYAKO GEKIJO / PASOCON TOABERU TANTEIDAN ("personal computer travel detectives") series from the early 1980s was commissioned by Pat Robertson for the Japanese market, dubbed and shown on various Christian television networks. In the Ukraine, the anime inspired a live-action Barney and Friends-style children's program titled Superbook Club (with the robot Gizmo, or "Robik" in Ukrainian, as the mascot).
Yes, I'm completely aware there are tons of anime titles I have completely neglected to mention, including HOWL'S MOVING CASTLE and the Toei LITTLE MERMAID and many others, including that one that's your favorite. Please feel free to fill up the comments about how I "forgot to mention" these titles, because I love it when you do that.